Shepshed Punchin' Panda's
---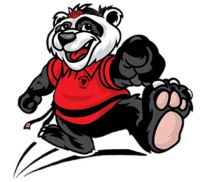 Punchin' Pandas is a special children's Martial Arts character development program for children aged 4-9.
Our goal is to develop life changing character benefits such as Increased Confidence, Better Concentration, Self Discipline, Better Attitude towards a healthy lifestyle and much more...also increased physical attributes such as.....
Fitness, Speed, Reactions, Stamina, Coordination and more...
Punchin Pandas is a beginners level class which takes place on Mondays at 4.15pm.
We also have an Intermediate Skill Level class called 'Junior Dragons' which is for older children and/or children with more experience of Martial Arts Training.
Both classes teach fundamental skills from Taekwondo, Boxing, Karate, Kickboxing, Self Defence, though for children it is very safe as 'contact' between students ranges from Super light to zero.
We have been at the Glenmore Centre for 16 years and are proud to have developed many 'Black Belts' from Shepshed, all of which we are proud to know have become role models in the community .
Punchin' Pandas headquarters are at the Loughborough Martial Arts Education Centre, where students can take extra classes to support and enhance their training, though we will always maintain our presence at the Glenmore Centre in Shepshed as this was where we first started all those years ago.
Contact Details
To book a Free Taster class in Punchin' Pandas or Junior Dragons, please contact Julie Hutton direct on 07984424811 or visit our Websites for more info or find Shepshed Punchin Pandas on Facebook to follow us more closely.
Our Websites