Tiska Karate
---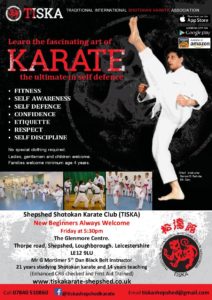 Shepshed club was opened by Mr G. Mortimer in 2011 after he returned from the Master course and his 4th Dan grading in Italy.
The course and grading was run by 8th Dan Sensei G. Sahota and Shepshed club has a mix of grades from beginners to 3rd Dan Black belts.
Shepshed club is run on a Friday evening under the guidance of Sensei Mortimer who has 21 years experience in Shotokan Karate.
For more Information please see Tiska Shepshed's website - www.tiskakarate-shepshed.co.uk 
Contact Details
Mobile - 07840510860
Email - tiskashepshed@gmail.com